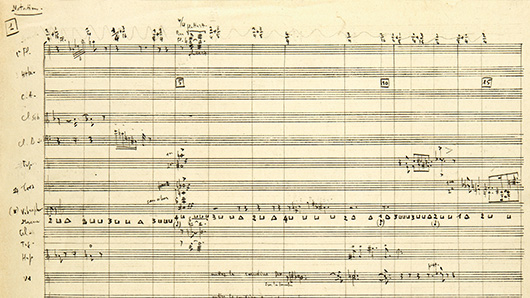 Pierre Boulez: Notation 1 and Notation 2, unpublished orchestral arrangement, 1945-46 (Paul Sacher Foundation, Basel).
Early arrangements and borrowings
The first arrangement of Douze Notations was made shortly after the collection had been composed. The archives of the Paul Sacher Foundation contain the draft of an initial orchestral version prepared in February 1946. The 11 orchestral pieces (Notation 6 was omitted because of its pianistic texture) are direct transcriptions of the versions for piano. Leaving the substance of the originals intact, Boulez merely orchestrated them in the way piano music had customarily been arranged for orchestra. The orchestral writing reveals a wide range of influences. The 'analytic' orchestration of the first piece, for example, recalls Anton Webern, whereas the use of the Ondes Martenot [+] points to French forebears and reflects the young Boulez's timbral preferences at the time. In later years, however, he distanced himself from this initial arrangement of Notations, which explains why this student effort, unlike the original piano version, is still unpublished and unperformed.
Boulez returned to his youthful Notations from a new vantage point in the latter half of the 1950s. In 1957 he used material from it in music for a radio play. One year later he drew on it for his Mallarmé cycle, Pli selon pli. For example, a passage from the second section of that work, 'Première Improvisation sur Mallarmé', is based on Notations 5 and 6.