An interactive approach to discovering, performing and teaching music
www.explorethescore.org presents twentieth-century music to a broad audience in an exciting, clear and understandable way.
Are you a music educator who is looking for ideas on how to introduce young people with key works of modern music?


Do you play, study or teach the piano and would like to explore György Ligeti's piano music with Pierre-Laurent Aimard? Or discover Pierre Boulez' piano collection

Notations

with the composer himself?
This free education platform of the Ruhr Piano Festival lets you do all that and much more with interactive scores, documentation of award-winning education projects, teaching materials, master classes and an array of background information on the composers and their music.
What www.explorethescore.org offers
World leading musicians perform, explain and teach music of the twentieth and twenty-first centuries.



Interactive scores, where the musical notation is combined with outstanding video and audio performances, provide rich and engaging musical experiences.




The context of the music is explained clearly with video, text and images.


Documentation of award-winning education projects and multimedia teaching materials offer ideas and practical instructions for teaching modern music.


Essays and previously unpublished sources provide valuable information for understanding and interpreting the presented works.
About the project
The online education resources of the Ruhr Piano Festival aim to make twentieth- and twenty-first century music accessible to people with different musical interests and backgrounds. Behind the project is the belief that the internet and the interactivity that it offers allows the presentation of complex music in an exciting and engaging way.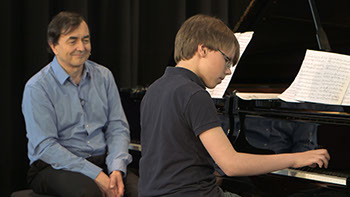 Renowned artists such as Pierre-Laurent Aimard, Pierre Boulez and Tamara Stefanovich, as well as highly regarded music educators and academics have joined the Ruhr Piano Festival to create this ambitious project.
www.explorethescore.org is developed by Dr Tobias Bleek for the Ruhr Piano Festival and it's director Prof. Franz Xaver Ohnesorg. Website programming and design by Victor Craven,

www.victorcraven.com
This multiple language internet platform was launched at the start of 2015 and continues to evolve with new content added regularly.
"...another site that demonstrates a brilliant use of the possibilities of the web to enrich musical experience in hitherto-undreamed-of ways..."
Tom Service
The Guardian
"…an absolute treasure..."
Stuart Isacoff
The Wall Street Journal
"Aimard...provides illuminating commentaries on the pieces..."
Michael Church
The Independent
"All of it is made with great musical and didactic intelligence. […] The Internet is a blessing here."
Jan Brachmann
Frankfurter Allgemeine
"Clicking playfully here and there on the score, you stumble upon explanations that tune the ear ever finer, and before you know it you're on a voyage of discovery. Lured by the Internet – to learn, marvel and chuckle."
Margarete Zander
Deutschlandradio Kultur
"The interactive score […] is so self-explanatory that even an average knowledge of navigating on the Internet suffices to use it."
Tobias Gerber
Neue Zürcher Zeitung
"Of all the interactive websites geared towards music education, none are closer to the musical substance than www.explorethescore.org"
Matthias Nöther
Deutschlandfunk
"There is a wealth of information here […] not only for the interested layperson; and professional musicians and academics are also likely to benefit from this platform. It can even be put to good use […] in the context of third-level teaching."
Stefan Drees
Neue Zeitschrift für Musik